'Life calls not for perfection, but for completeness' Jung
The common element to human hardships is the change they demand from us, by recognising and and transforming.
In english or french, if you think something must change and need a professional support to help you in well-being, you can book and appointment with me online.
Or for more information, contact me via psy.yasmine@gmail.com or 089 705 6856.

The Natural Clinic reception: 021 4311 977
You can also book here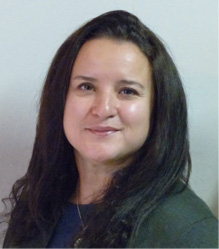 I've always been interested in how people's well-being can be affected by their thoughts and experiences. After experiencing the dangers of civil war and repression, I learned that safety allows rich and peaceful fulfilment, and this is what I want to promote in The Natural Clinic.
To me, counselling is a two-way street. You and I exchange presence, emotions and commitment. Regarding my personal experience of life, I give primordial importance to people's traumas, whatever is the severity because the way we feel and receive what occurs to us depends on many individual specificities.
In Toulouse, I ran a private practice counselling individuals, couples and families. I also managed and ran workshops in different environments (groups of adults or teenagers, in corporations or health and educational institutions). I counselled persons aged from 12 to 96 years old.
It is important to understand what can cause issues, suffering or dissatisfaction. Understanding helps us but it is still important to adapt behaviour in our present.
During my career, I have worked with people from many different social and cultural backgrounds. As well as my master's degree, I undertook seminars and private courses to enhance my knowledge.
I'm inspired by integrative, social, cross-cultural, behavioural and positive psychology. I experienced mindfulness, TAT, EFT, NLP, hypnotherapy…
These approaches taught me to have a multidimensional conception of people while focussing on the present.
The experience of living can imply a lack of self-esteem and confidence. We may experience depression, anxiety, conflicts, separation and loss, mourning, moving, accidents, decision making, mental and emotional exhaustion, hypersensitivity, addictions, obsessions, violence…etc… There is a common element to these human hardships: the change they demand from us.
How do we do that? To identify, understand, transform and then: change.
We perceive the present with strong beliefs reinforced by our experiences and social conditioning.
So, I propose to help question the obvious, accompany you to arrive at an understanding… and put recurrent thinking and convictions in perspective. This is an important part of what we do together. The other part is the change. Understanding is necessary but sometimes it is not enough because habits are difficult to leave behind, even when their effects are negative. Training ourselves to practice this concretely is required, I am here to accompany you in that journey with gentleness, listening and honesty. That is our "partnership".
Here is an important principle: we all have the ability to understand ourselves. Complex ideas can be exchanged with simple words and clear intention. My practice has always been accessible, simple and free from the pressure of social normality, so feel free come as you are without any judgement. I welcome diversity and also speak English, French and Arabic.
We are permanently "travelling in space and time in the vassal of our thoughts". The past and the future absorb and burn energy. The "here" and "now" must occupy their legitimate space our minds and in our lives, it is a condition of fulfilment.
I will accompany you to initiate and pursue well-being.
Mental and emotional patterns are permanently impacting human experiences. To know and understand them is necessary to precipitate positive change.
Life is fluid, adaptation and change are possible.
Give yourself the means to recognise and transform.
Book a counselling appointment in Cork with Yasmine now.
One individual session costs 70 Euros and last 1 hour.
Couple's sessions costs 100 euros and lasts 1 hour 30min, to accommodate please book two sessions (2 x 1 Hour) in succession.