stop anxiety, depression, panic attacks, guilty feelings, and truly live the life from your heart, as well as remove a (the) major cause of disease? The Emotion and Body Code may be able to help you achieve all of these, for yourself and for others.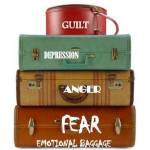 Claim your Birthright for a life full of JOY!
Phone 089-9756424
Email: 4balancinglife@gmail.com
Emotional Baggage: A Cause of Disease
We all accumulate emotional baggage in life that causes problems in our bodies.
The Emotion Code helps us to get rid of our emotional baggage
Trapped Emotions are the most common type of negative energy that imbalance the energy body
Imbalance in the energy body affects the physical body too!
Balance or imbalance of the body's organs also influence our emotional choices. A trapped Emotion of sadness will cause you to feel sad more easily because part of you is already sad- you are already"leaning that way"
I am a Natural Health Practitioner with a focus on the Body / Emotion Code
Special Programs:
The Relationship Program
Do you feel blocked or misunderstood in your relationship? Do you keep attracting the wrong persons and end up alone and hurt over and over again?
The relationship program helps you to identify underlying causes blocking you in giving and receiving love. By releasing these obstacles you will be able to discover a true resonating relationship in which you can communicate from the heart.
Abundance
Do you feel a lack of energy, focus and concentration?
Are you not reaching your goals despite your efforts and is your financial situation a source of anxiety?
When we grow up we hear affirmations with regards to making money and to living a life of abundance. They can program our way of living.
Am I worth having what I need, is it safe to be succesful? What to do with statements like: "When I receive, I deprive others". "I always lose and never win", which (un)consciously rule my life?
Our abundance program allows you to get rid of these and other underlying affirmations blocking your way to succes, wealth and abundance. Than you can be fully in alignment with the goals you set and see your efforts bear fruit.
Prices
€97 for an hour first-time or follow up consultation
Rescheduling and cancellation policy
Sessions can be cancelled or re-scheduled by giving 48 hours' notice by email/text either to me or the Natural Clinic Reception. If you fail to attend your consultation or cancel with less than 48 hours' notice, then the full fee will be charged and no refund given (with the exception of emergency situations).
Book an appointment now (€97)