I am a passionate holistic therapist with over 15 years of experience. I specialise in creating a relaxing and healing space for reflexology and massage therapy. I love to use the elements of
touch, energy work, aromatherapy and herbal remedies, taking my client on a relaxing journey to ease tension and soothe mind and body. All touch therapy stimulates the circulatory system and supports the lymphatic system.
I've always had a curiosity about natural healing, self care and self discovery with
the mind-body-spirit connection. This has taken me on many eye opening journeys, to
many different countries and cultures learning indigenous healing methods from
Ayurveda in India, Thai massage, Shamanic rituals in Peru and Lomi Lomi nui in Hawaii
where I did my apprenticeship in 2017.
These techniques that I have learnt, I infuse into all of my treatments making
them unique and special. I have qualified in cancer care reflexology and I am a
member with the Irish reflexologist Institute (IRI), working with various insurance
companies, many policies cover the cost of a reflexology treatment.
(VHI, Laya, Irish life).
As we also change just like the leaves on the trees, I am currently studying to be
a Master Clinical Herbalist and Iridologist, I will be qualified in 2021 after 4 long inspiring
years of a deep dive Into the healing power of herbs and their medicinal qualities.
Herbal medicine dates back to antiquity, of Ancient Greece and Egyptian times, herbs
were the first mode for healing the body, they used plants for medicine and today alot of
our pharmaceutical drugs originated from these plants, for example aspirin came from
willow bark.
As Hippocrates states:
"Let food be thy medicine, and medicine be thy food"
Let us hold hands with our ancestors and bring plants and herbs back into our daily life
to help support our bodies systems along with conventional medicine.
Within each session I hold a healing and supportive space that would bring you
on a journey inwards. This allows you to fully relax and destress, relieve and release
tension and strain in muscles, can ease headaches and may help with insomnia, and
boost your immunity, your natural defence. This allows you to reconnect with your inner
self, inner light and brings you back to a place of well-being, harmony and balance.
Solas Síoraí means eternal light, helping to bring out the light in others.
"Don't you know yet, it is your light that lights the world." – Rumi.
Infusion massage
Infusion massage uses aromatherapy oils which ease and relax your body and mind,
combining different techniques which soothe tension areas and feels like firm and
flowing strokes over the body, deep work where needed. Indulging aromatherapy helps
to awaken your senses and is unique to each client, allowing the energy to ground and
balance.
Reflexology / Oncology reflexology
Reflexology are reflex points on your feet. Each point is zoned and reflects the organ
and systems of the body. We work at supporting each system and boosting the natural
immune system, allowing your body to heal. We work deep into the soul of the problem
on the soles of your feet. This treatment is relaxing, soothing as well as uplifting.
Revitalise and treat your feet, you're worth it.
I'm a member of the Irish Reflexologist Institute (IRIL), Laya, VHI, Irish Life, many
policies cover the cost of a reflexology treatment.
Kundalini Reiki
Rei-ki means universal energy, great for anyone who might be stressed, anxious and
just want to relax. This is an energy healing therapy that works on the chakras, helping
to ground and release any blockages. Allow your mind to be still, and let your creativity
flow. Relaxing, easing and releasing
Voucher's available on request.
All treatments suitable after first trimester of pregnancy
Rates
45 mins €50
60 mins €65
90 mins: €85
Package of 3
Any 1 hour treatment booked within 3 months and get your third treatment half price
(€30). You can pay per treatment but must have advance bookings to avail of this offer.
Can't combine other special offers.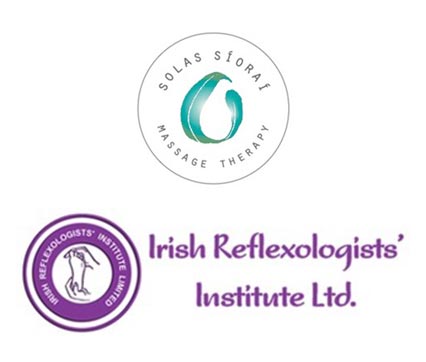 Book your Massage, Reflexology or Reiki session now