We have specifically focused on Body work and Osteopathy at the natural clinic as we find it fits our holistic full body approach. Please consider viewing Paulo's information below.
"I follow the philosophy that therapy is most successful when people are treated as whole human beings, not as individual parts, and my work is focused on finding and treating the root cause of physical issues".
Paulo has an Honours Degree in Kinesiology from York University, and a certificate in sports massage, orthopedic therapy & manipulation therapy. He is currently completing a degree in Osteopathy.
Alongside his formal education, he is also a lifelong athlete and coach in Capoeira.
His athletic experience has given him a deeper understanding of the mechanisms behind injuries, the athlete's mindset, and the understanding of wanting to get back to training. He has deep, practical knowledge in Martial Arts, acrobatics/gymnastics, and dance."
What do we do?
We try to take away whatever barriers your body might be facing in order to let it heal itself. We try to figure out what the root cause of the pain maybe, and if it's within the scope of practice, and deal with the surrounding tissues to let your own systems deal with the pain or injury.
We often deal with a variety of things including: Back pain, Acute & Chronic Injuries, Athletic Injuries, Pregnancy & Babies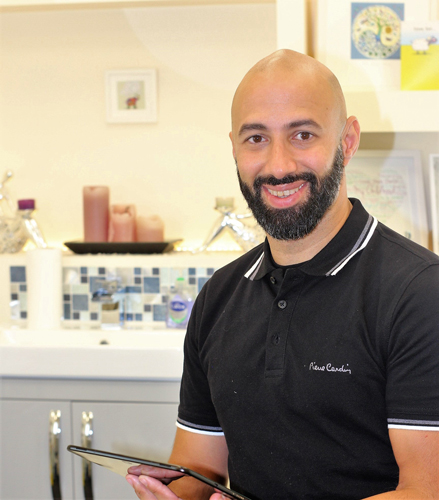 Paulo Farinha
General Manipulative Therapy Treatment & Sacral Therapy
My Approach to Bodywork and manipulation. 
Having taken a history, I will advise you of your therapy plan before treatment. Examinations are based on orthopaedic and neurological tests as well as tests of movement and strength which give an indication to the structures involved.  As needed, we may request a laboratory test to evaluate the function of your internal physiology, such as an Xray or MRI.  The laboratory examinations will be only used as clinically indicated and used in relation to your treatment.
Techniques of treatment Include
Muscle energy techniques
Joint manipulation
Stretching exercise
Myofascial trigger points release
Soft tissue techniques
Dry needling
Visceral manipulation
Cranio-sacral techniques
After treatment, I may also provide you advice on posture and exercise to encourage a faster recovery and help prevent problems reoccurring.  I will teach you exercises and stretching to do at home and also I will recommend you how to reach a healthy life without pain.
Along with physiotherapy, I also practice osteopathy, a system of diagnosis and treatment for a wide range of medical conditions. It works with the structure and function of the body, and is based on the principle that the well-being of an individual depends on the skeleton, muscles, ligaments, viscera, fascia  and connective tissues functioning smoothly together, using physical manipulation, stretching and massage to increase the mobility of joints, to relieve muscle tension, to enhance the blood and nerve supply to tissues, and to help your body's own healing mechanisms. It also provides advice on posture and exercise to aid recovery, promote health and prevent symptoms recurring.
Treatment may involve gentle articulation movements, soft tissue manipulation and/or gentle cranial osteopathic techniques. Patients may then be given further advice on posture, prevention and exercises. All techniques are chosen for each patients individual needs, allowing for the most effective treatment for that individual.
Symptoms Treated
Neck pain: This can appear after a traumatic event (car crash, a fall or from birth etc.,), develop over Time or appear one day with no apparent reason.
Whiplash: after a car accident or traumatic falls, impacts etc. You can have symptoms like headaches, neck and shoulders pain or even lower back pain.
Headaches: A lot of headaches can have a mechanical, or tension related explanation and Osteopathy can help.
Shoulders pain: frozen shoulders, rotator cuff injuries, tightness around the shoulders, impingement…
Elbow, wrist and hands: Pain due to an unresolved trauma, sports injuries, tendonitis, carpal tunnel syndrome….
Jaw aches: Limited jaw opening, pain in the ears, tinnitus, pain when chewing or talking…
Tinnitus: Little noises, hissing you one side or both sides of your head. It can be due to a lot of things like an issue with the jaw, neck muscles or joints…
Back pain: Sciatica, disc bulges or any lower back pain.
Digestive problems: Constipation, diarrhoea, abdominal pain… Osteopathy can help with a gentle visceral approach
Fatigue: Your body can be put under a lot of pressure during your everyday life and that can lead to a general fatigue. Osteopathic care can release the tensions you have built up and help to relax.
Pelvic imbalance: This can cause pain in the hips, back, shoulder and other areas of the body that depend on an evenly balanced pelvis.
Post surgery: to reduce your recovery time and assist the body's' rebalancing.
Pregnancy: During pregnancy, your body undergoes huge changes to accommodate the growing fetus. The extra weight creates a shift in your body's centre of gravity. Your ligaments become softer.
These changes can lead to sciatica pain, symphysis pubic dysfunction, shortness of breath, hip pain…
Osteopathic care can restore and maintain normal pelvic alignment and mobility during the pregnancy but also after the birth. 
Fibromyalgia, chronic fatigue syndrome, rheumatoid arthritis…: with a gentle treatment we can help myofascial release to reduce the stress put on the nervous system leading to pain in the tissues.