Jorien Verstraten, our Nutritional Therapist specialising in Weight loss was a chef in a former career. It shows and makes it easier to learn how to make healthy food tasty.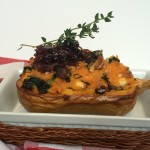 Double-Roasted Butternut, filled with sweet potato/kale mash, topped with come caramelised red onion.
This recipe combines all the foods (plus some) from our suggestions in our initial phase. A special treat for those who are looking to implement these foods in another way than the stew (which is still the best digestible way to eat it by the way) Some shops sell baby sized butternut squash, which is lovely as a show-stopper. Serve with a dressed fennel/carrot salad and your beta-carotene meal is complete!
Serves 2
Ingredients: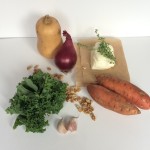 1 (baby) butternut squash, washed and halved lengthways
2-3 sweet potato, depending on the size, peeled and chopped into chunks
3 sprigs of thyme
3 handfuls of curly kale, washed, stalks removed and chopped roughly
1 glove of garlic, finely chopped
1 handful of chopped walnuts
1 red onion, peeled and thinly sliced
1tbsp olive oil
2tbsp balsamic vinegar
½ block of halloumi, chopped into cubes
Salt and pepper to taste
Instructions:
Preheat the oven to 180C, scoop out the seeds of the butternut, place the butternut in an oven dish, skin side down and bake for 20 minutes. (the butternut should be lightly brown on the top now)
Meanwhile, cook the sweet potato with the sprigs of time in plenty water for about 15 minutes, or until soft. Add the curly kale the last 5 minutes to steam.
Drain the water, take out the thyme sprigs and mash the potato/kale mix until as smooth as you like. Add the garlic, walnuts, chopped halloumi and stir in to combine. Then fill the butternut squash.
Put back in the oven for another 15 minutes at 180C.
Heat the olive oil gently in a frying pan, sweat down the onions for at least 5 minutes until softened (you want the onions to go soft, not to burn, so keep on medium heat) add the balsamic vinegar and let caramelize while stirring regularly.
Take the filled butternut out of the oven, top with the onion and decorate with some thyme for some colour. Serve hot with a side of fennel/carrot salad.
Enjoy!
https://thenaturalclinic.ie/natural-slim/