Haven't heard about it?
The Alexander Technique is where you learn to work with your body's musculoskeletal/nerve issues yourself. I can tell you people have amazing results and feel empowered after just 1 session with Andrew Monaghan here at The Natural Clinic.
You learn how not to go against what your body is trying to do, the main ethos of the clinic in general. It is used mainly for back pain and sciatica but is great for correcting balance and posture imperfections that can cause long term health issues. It can be a great relief to walk, run, stand, sit, reach or move at all without putting pressure on your body….for a change.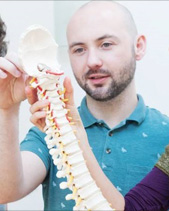 Learn more about the benefits of taking Alexander Technique Lessons in Cork